When we say "photo booth", what comes to mind? For many people, it's the little box in the mall with a curtain that dispensed three or four goofy photos you had to cut up and share with your friends. You probably kept this little picture as a keepsake, reminding you not of sitting in the booth and sticking your tongue out for the camera, but of the good times and relationships that were so important to you at the time.
Despite being so small, photo booths and the pictures they dispense can create a lot of important memories. Now imagine what one can do when you add it to your next special occasion. Only this time, think bigger, digital, and with more features. You won't even have to go to the mall, but you'll still come away with those memories!
Our Photo Booth Can Do The Work For You!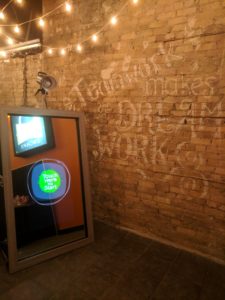 We use state-of-the-art technology called a mirrored photo booth to give you not just crystal-clear digital photos, but a photo booth that can fit into any space! You and your friends or guests approach the magic full-length mirror, and the rest practically takes care of itself. You'll be taken on a tour of all the backgrounds, special effects, and other customizable options that will make your photo fun. Choose what you want, wait for the countdown, and voila! You'll get the memorable photo you want!
You don't even need to set up a background! Though we do offer those as well, the mirrored photo booth can be set anywhere – in front of a wall, a curtain, or nothing at all! It's incredibly versatile for space with which you're working.
Our Photo Booth Can Enhance Your Photos
Photo booths don't have to just be you and your friends cramming in as many silly poses as possible before the flash. Now, you can add little extras like emojis, logos, pictures, and hashtags, or completely change your setting with colourful lights, animations, and even social games! You're given as much or as little as you need to really ham it up, so go wild!
In case those aren't enough, we also provide some props for you to use. Sometimes, you just want to dress up for a photo, you know?
Our Photo Booth Can Make Every Occasion Extra Special
No matter what the occasion, our mirrored photo booths will be right at home. We offer all kinds of goodies that will accommodate not just weddings and corporate events, but also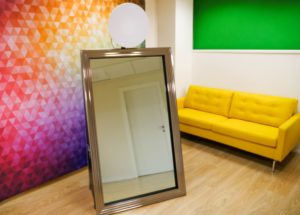 children's parties, proms, family holiday gatherings, trade shows, grand openings for businesses… the list goes on and on! To put it briefly: if you want a fun occasion to be more memorable, the photo booth is the perfect addition.
The booth we deliver is incredibly versatile, but you can also sit down with the Picture Perfect team to set up a package that follows your budget, regardless of how stringent it is. If you're on your company's party planning committee, you know how strict your budget can be! Adding a photo booth is the perfect way to inject some cost-effective fun to your next gathering.
You now know what Picture Perfect photo booths can do – what creative things will you do with them?