Wedding planning can be a stressful job, especially if you're trying to stay on a tight budget. Don't let the bills and expenses define your plans, though! There are many ways to save money while still having fun and putting together the day of your dreams.
DIY Wedding Deco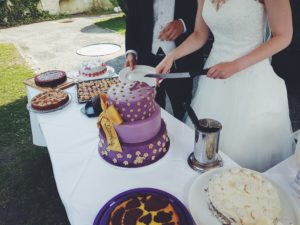 From the decorations to the centrepieces to the wedding favours, think outside the box and make them yourself! Call in some favours and get some friends and family to make your wedding the ultimate do-it-yourself experience. You'll save money and get a unique look that will make the whole day extra special.  
You can even get really creative by making some bouquets for yourself and the bridal party, too! Paper flowers can look beautiful, are easy to make, and will save you from shelling out for something that won't make it past the weekend. Bonus points if you're a bookworm!
Go Paperless For Your Wedding Invites
Paper invites and thank-yous aren't always necessary anymore. It's an extra expense to have a company design them and send them out for you, but when you're also taking care of so many different things, should you send them out yourself? Set up a new email account, design an email using your favourite couple shots, and send out an electronic invitation. It makes it so much easier to organize the information you'll need and ensure that no one's preferences get lost.
You can cheaply use the Internet to keep everything organized and share more information than ever before. Make a small website for your wedding day, with all the venue information, directions, RSVP needs, and what the guests can do between the ceremony, the photographs, and the reception. It can go a long way to helping out-of-towners not feel stuck, and you won't have to pay for a bar to keep them occupied.
Make A Photo Booth The Wedding Favour
Wedding favours don't need to be over-the-top. If you're making the night one to remember, it won't matter if they take home personalized chocolates or a shot glass – they'll take home
lasting memories from an amazing photo booth. You can make it even better by renting a photo booth. It'll let young and old alike goof around, have some fun with different props and effects, and go home with a memento they'll keep forever!
Rethink The Wedding Cake
The wedding cake is one of those traditions that more and more couples feel obligated to include. It's not about how it tastes, or whether it can feed the crowd, but rather for ornamentation and that fun "pushing cake into each other's face" photo. So don't bust open your wallet getting the best cake from the most expensive bakery; have a small cake for the photo and/or to keep in your freezer for fifty years, and another to serve the guests. Or just skip the cake and have a dessert buffet that will satisfy everyone's sweet tooth.
Find One Wedding Venue For Every Need
Paying two or three different places can run up your budget really quickly. Have the ceremony and reception at the same venue, with a little area for your guests to hang out while they convert the venue from one to the other. Consider a venue that can accommodate photos and overnight lodging on the premises, too!
If you can't find that perfect venue, consider holding one of the main events at a place that won't cost you as much. Hold a private ceremony with family and close friends in a park, or have the reception in a large country backyard.
Reach out to us today to book your wedding photo booth!