If you're marketing yourself, you know that trade shows are very important for business. A good trade show booth leaves a lasting impression on potential clients, customers, and partners. In setting one up, you make sure you have brochures, business cards, and swag… what about a photo booth?
Nothing leaves a better impression than a photo booth: it helps you stand out in a room full of ordinary booths, it spreads your branding in a creative way, and they're just a ton of fun!
A Photo Booth Is Easy, Personable Branding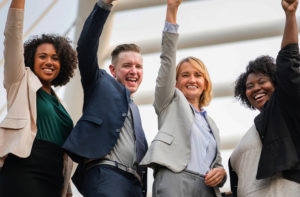 Setting up a photo booth is an effective way to brand yourself onto souvenirs your audience will take home and share with people. With every snap a visitor to your booth takes, whether it's a digital or physical photo, you can include your logo or a branding message in the picture. They can choose their props and special effects to enhance their fun, but they'll also always see you on the picture, too. You can't really do that with a business card, can you?
They Can Share Digital Snaps On Social Media
So a potential client has your brand on a fun memento in their pocket. If it's a physical copy, they might stick it to the break room fridge, pin it up on their cubicle, or gift it to the boss as proof they actually went to the trade show. This would be a conventional photo booth, but we don't offer conventional photo booths. Now, they can leave with digital, shareable versions of their photos, too!
Digital pictures are a great way to spread your branding far beyond the break room. A trade show photo booth gives company teams a way to show they're having fun connecting with others in the industry, and they'll want to show this on social media. If they do, your branding is now in front of many more eyes, all of whom may be connected to your area of business, too!
Clients Leave With Something Better Than A Pen
Everyone knows that while trade shows might be worthwhile events, they can be so boring. Branded pens, business cards in a fishbowl for a draw, perky company reps making buzzword-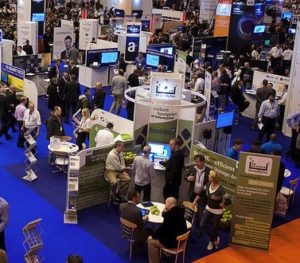 filled small talk – it's often just a sea of the same. With a photo booth, you break up that monotony and give people some unique memories with which they can leave.
Photo booths are more than just a bright spot in a boring trade show for you and the visitors to your trade show booth. They're an effective, fun, creative way to spread your brand messaging, connect with potential customers and business partners. We make it easy to share photos online and print them off physically, with many props and special effects they can play around with. Stand out from the crowd at your next corporate show – rent a photo booth!